NDDB Dairy Excellence Awards (Management Excellence & Gender Inclusion)
Milk Cooperatives have played a vital role in the progress of the Indian dairy industry. The Operation Flood programme and other interventions by NDDB through these milk cooperatives have made India the world's largest milk producer. Operation Flood not only made dairying an instrument of social and economic change, but also introduced modern technology and methods in liquid milk processing, transport, packaging and marketing, apart from product innovations in numerous traditional and western milk  products. Millions of small farmers in various parts of the country have gained the strength to sustain their livelihood while contributing to the increased supply of safe milk to consumers. The cooperatives have providedgainful employment to farmers and brought them closer to the market. There are 198 district cooperative milk unions in India, covering about 1.6 lakh villages, reaching out to 15.4 million milk producers of which 4.4 million are women members. Generally, cooperatives give back 75 percent of the consumer rupee earned to the farmers.
Producer Companies, another form of collective business enterprises owned and controlled by user members, are also being promoted. The Producer Companies enjoy the same institutional and philosophical strengths of cooperatives with flexibility
and autonomy of the company law. Post liberalization, private sector is rapidly expanding their operations into the dairy business and has created large capacities in the last 15 years. While the private sector is likely to grow, it is important in the interests of livelihoods and inclusiveness that producer based organizations increase their existing share of the milk handled
(currently at 50 percent) by the organized sector.
Therefore, along with financial, technical and institutional support, it is imperative that producer based organizations be motivated and inspired to continue to contribute to the socio-economic development of local communities, with increased vigour, and uphold the core principles and values of cooperatives.
With a view to recognize the efforts of producer based organizations and inspire them to sustain their efforts in future, NDDB has decided to institute "NDDB Dairy Excellence Awards" for the best dairy cooperatives for management excellence, value to farmers and social & gender inclusion. The award would set benchmarks and help the organizations to adopt best practices and would encourage them to come up with innovative ways to expand their business operations, bringing in improved transparency, efficiency, social, financial and gender inclusiveness.
 Co-operative status since launch of Operation Flood (OF)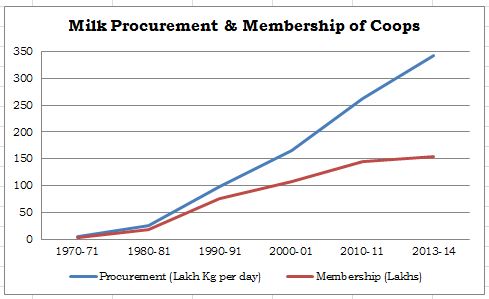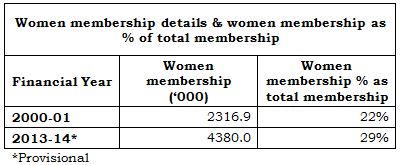 The awards will be conferred on Dairy Cooperative Unions/Producer Companies under following three categories:
a) Large organizations: milk procurement more than 5 LLPD
b) Medium organizations: milk procurement between 1 LLPD and 5 LLPD
c) Small organizations: milk procurement less than 1 LLPD
In each category, two organizations will be given cash awards of  Rs 5 lakh, and Rs 2 lakh respectively along with a citation.
Special awards for promoting inclusion of women
To recognize the role of women in dairying and to increase their participation as members and leaders in dairy cooperatives and to ensure their financial inclusion, two special category awards will be conferred on the dairy cooperative unions. One, for the highest number of women DCS organized and the other for dairy cooperative unions with highest number of functional women members. In each category a cash award of  Rs  3 lakh and a citation will be given.
"To participate, please fill up the questionnaire as provided at the link and send us the soft copy through email at nddbaward@nddb.coop latest by 28 February 2015"