Technology is changing the lives & livelihoods of small dairy holders: Chairman, NDDB

Bhopal, 20 March 2018: The National Dairy Development Board (NDDB) continues its endeavour to provide real time information to the dairy cooperatives by setting up info systems at various levels using modern information technology. Shri Dilip Rath, Chairman, NDDB said that in line with the Union Govt's Digital India dream, NDDB's integrated Automatic Milk Collection System (AMCS) software has strengthened cooperative business through digital innovation. Presently, 48 DCSs affiliated to the Bhopal Milk Union are using the AMCS software. 
Benefits of software 
Shri Rath conveyed that apart from introducing transparency in operations the software has improved process efficiency. It automates the complete milk collection process and enables single click milk collection operations. The automation avoids manual intervention and integrates with milk testing equipment. The application equips farmers and other stakeholders with relevant information to enforce accountability at every step.Farmers get instant SMSs for every transaction ensuring complete transparency and avoiding data manipulations. Farmers also have access to all past transactions with AMCS android application.The entire DCS level data is also available at milk union portal enabling better planning and execution controls. The transparency and efficiency strengthens milk producer's faith in the system and also reduces transaction cost for the cooperatives. 
Core operations 
This is a robust, multi-platform, multilingual software solution for complete DCS operations integrated at Union/Federation/National levels to enable transparency, improve efficiency and key informatics based on Open Source stack. The software includes application at DCS Level on windows, Linux and android platforms coupled with portal at multiple levels. The system also provides android application to farmer for accessing information relevant to them. AMCS covers the complete operation of DCS (Business operations, Financial Accounting, Welfare Schemes, Share transactions, MCM, Audit etc.) and integrates seamlessly with Union Systems. A single application supports multiple languages and all possible deployment scenarios. It supports all available combination of society and member organisation structure available in the country with little changes in the configuration options. Some of these includes One/Multiple Collection point for both Cow/Buffalo milk for a single/Multiple (group DCS) in a single/multiple premises with/without BMC/tanks. The software captures complete details of all members, pourers as well as management committee members. The application allows capturing animal holding of members along with banking, education and family details. 
The application also has numerous built-in configurable checks to ensure accuracy and effective control over collection process. AMCS has option for milk pricing under various pricing mechanisms. The application provides local milk sales on cash or credit basis after integrating dynamic credit checks and dispatch to dairy. The application tracks all essential parameters of bulk milk cooling operations and can also be integrated with data logger to update various parameters from monitoring devices. The applications helps to track diesel consumption as well as monitor complete BMC operations. This application manages complete product (Ghee, Cattle feed) trading operations at DCS level for local or central supplies of products along with managing rates, unit conversion, trade & consumer schemes and complete tracking & traceability of entire order to cash cycle. 1
Current Status 
Live portals of Bhopal, Ujjain and Indore Milk Unions.
Live DCSs affiliated to Bhopal Milk Union – 48
Indore/Ujjain – training in progress
Major Modules Used – Member Management, Milk Procurement, Bulk Cooler Management, Centralized Rate Chart Management, Milk Dispatch, Local Milk Sales, Products Purchase and Sales, Inventory Management, Cash Advance, Member Billing & Milk Payments, Portal Dashboard.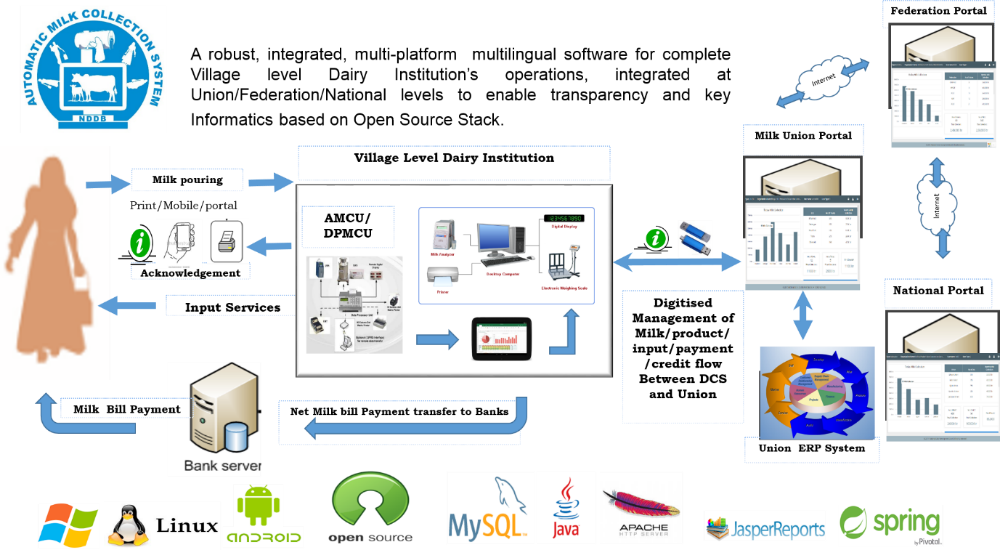 The Bhopal Milk Union pools about 510000 KGPD milk from 63649 pourer members affiliated to 2034 functional DCSs. The union has 37947 women members. The MP State Cooperative Dairy Federation's estimated milk procurement is 1370000 KGPD. Milk price paid to farmers is Rs. 33.37 per litre (6% Fat, 9% SNF).