International Centre for Foot & Mouth Disease (ICFMD), Bhubaneswar
A prestigious R&D facility of ICAR with BSL3+ laboratory & Animal Experiment Facility for conducting biomedical research in the area of Foot and Mouth Disease (a highly infectious disease in animals affecting national economy). This facility shall  also serve as a regional resource Laboratory for SAARC countries.
The planning and design of the project completed during 2013-2014, and  construction commenced during  Mar-2014.  Expected to be completed during 2016.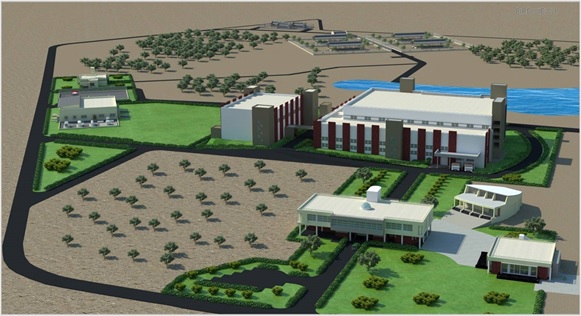 Architectural view  of ICFMD Project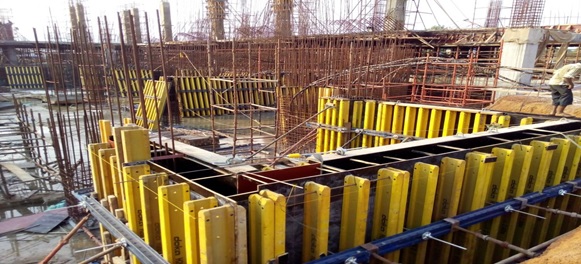 Project work in progress
The project covers the following major facilities;
BSL 3+ Laboratory  with  HVAC & BMS
BSL3-Ag  Animal Experimentation Facility with HVAC & BMS
Large & small animal houses, Quarantine buildings etc
Primary ETP & Secondary ETP
Administrative and training infrastructure.
Following are salient features of the Bio-safety facilities;
BSL3+ Main Laboratory Building:
State of the art bio-safety laboratory with 3 levels of containment
Primary containment with highly reliable  Bio-safety cabinets
Secondary containment with  air tight  pre-engineered modular partitioned chambers with controlled environment through highly reliable HVAC and IBMS.
Tertiary containment with air tight concrete containment building.
The containment Building is constructed with special features as under:
Self compacting concrete having low shrinkage properties
Doka shuttering for achieving high level of concrete finish
Post tensioning of concrete to minimise the shrinkage cracks.
The containment envelope is provided with crack-bridging epoxy coating to achieve air-tightness.
The Main laboratory Building is designed with  following specialities;
Interiors of the laboratory area are designed with Pre-engineered, pre-fabricated  insulated  clean room modular panels.
Highly reliable HVAC & IBMS system to maintain controlled environment ( Negative pressure up to - 60 pa , 22-25 deg C temperature and humidity of 55 to 60 Rh) and secured  biometric access system.
Highly reliable Effluent decontamination plant and secondary effluent treatment plant.
Highly reliable imported  decontamination autoclaves, formalin airlocks, pass boxes, dunk tanks,  air tight doors & vision panels
Highly reliable and energy efficient imported Chillers  & Air compressors.
Highly reliable air tight  penetrations for cables & pipes in the containment area.