Internet based Dairy Information System – A business expansion tool
NDDB initiated an Internet-based Dairy Information System (i-DIS) in 2001 with a view to provide a platform through which all the unions and federations can share their data with other unions and also a unique opportunity for each union to compare its performance with other contemporary unions on varied performance parameters.
The system enables cooperative milk unions across the country to share key information such as number of village dairy cooperatives societies & their members, quantum of milk procured & sold, milk products made & sold and technical inputs supplied among others.
Structure of the System
The i-DIS is basically a web based system under which each milk union keys-in the data related to its operations. This data is validated by the NDDB Officer(s) in concerned metro offices. The final data resides in the central server located at Anand for use of all milk unions/federations.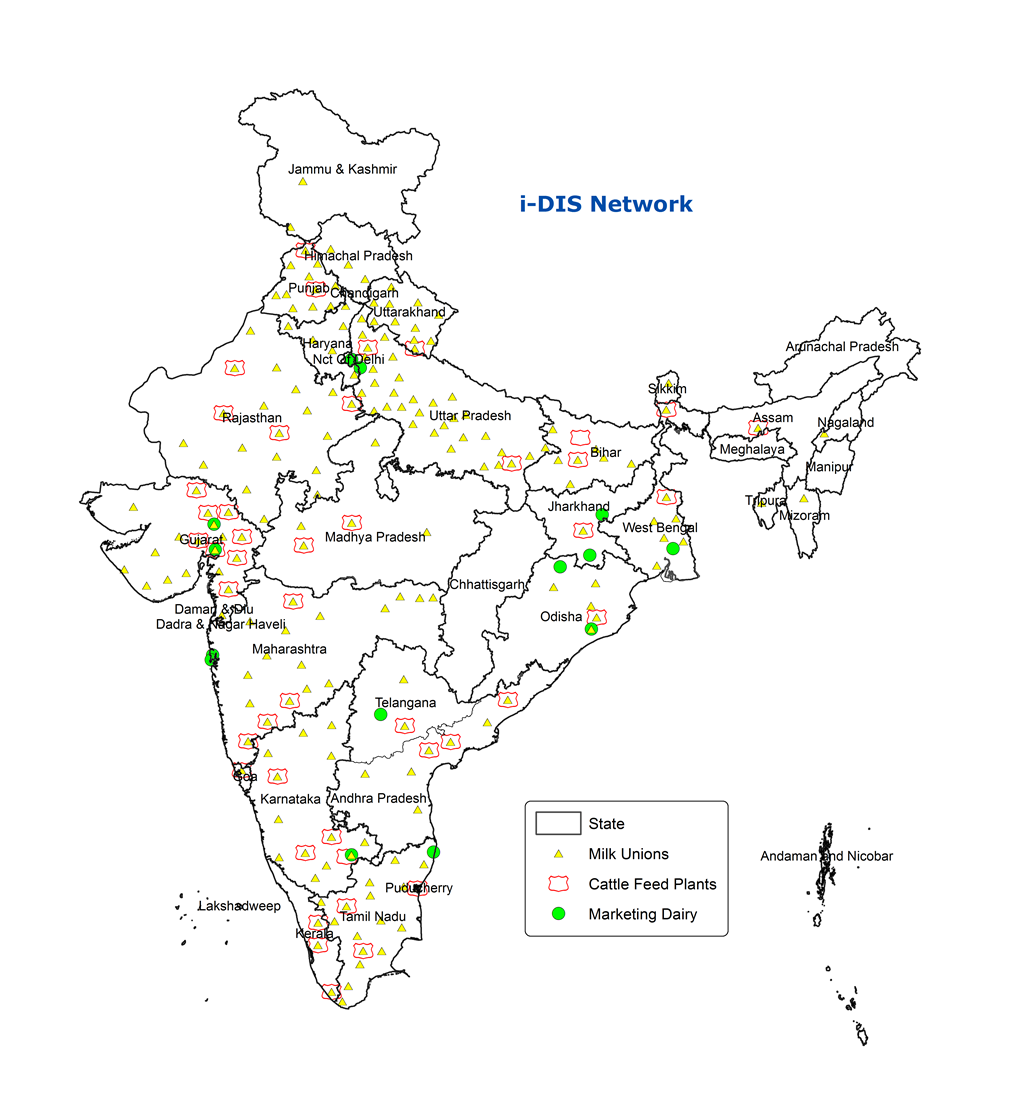 The data are captured at varying frequency -  
Monthly: Operational information related to procurement and its utilisation;
Quarterly: Institutional along with technical inputs;
Financial: Business related details
 Ad-hoc: Other information related to board, employees, training, etc. as and when changed.
Participation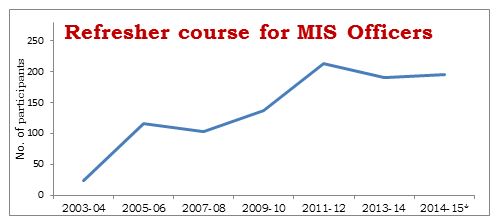 Presently, around 198 milk unions, 29 marketing dairies, 54 cattle feed plants and 15 federations under cooperative ambit participate in this information network. Orientation workshops are organised annually for MIS personnel of milk unions across the country to improve the quality of information reported.
Reports
After posting raw data regularly, the system generates more than 90 types of pre-structured performance reports. The reports are designed in such a manner that each union can compare its performance with other unions having similar processing infrastructure, procurement volume and product-mix on varied progress parameters. This analytical feedback enables the unions to review its performance and take corrective actions, if required.  All reports can be saved in MS-Excel format, enabling users to do further analysis.
Advantages
Direct Data Entry by the organisations generating the data helps in: 

reducing the time taken for data to reach the apex organisation; and 

eliminating duplication in data entry which results in reduction of errors and costs.
Timely availability of information, strengthen the decision making process.

Reports providing information to member dairies which help them identify areas for improvement by comparisons to other dairies.

Provides a ready frame work for data ware housing and data mining applications.
Information is a treasure – an experience of Visakha Milk Union
Sri Vijaya Visakha Milk Producers Company Limited which has liquid milk sale operation across India is located at Visakhapatnam in Andhra Pradesh.  It procures milk from five costal districts of the state, namely, Srikakulam, Vizianagaram, Visakhapatnam, East Godavari and West Godavari.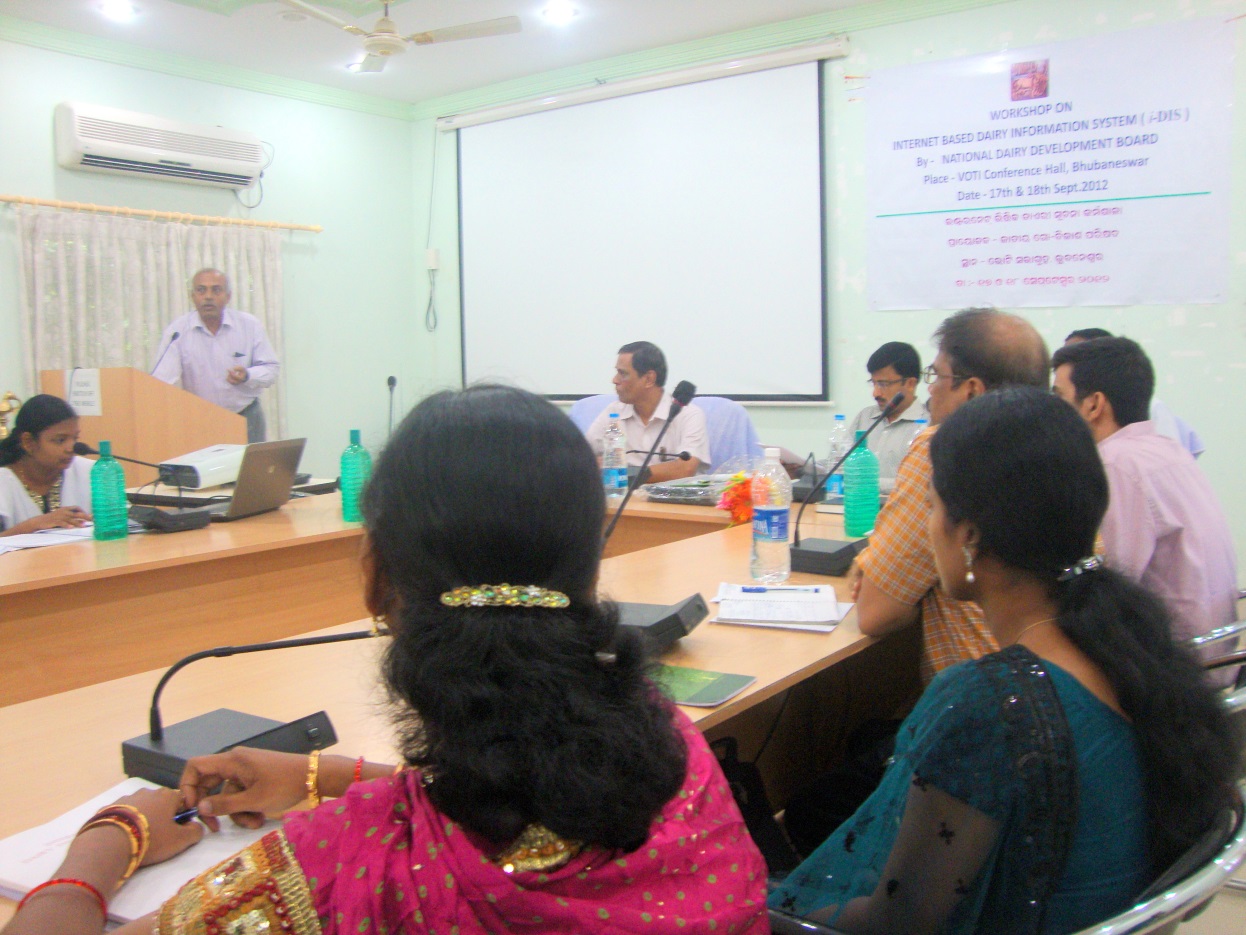 The milk procurement of the then Visakha Union had declined to 3.9 lakh kg per day in 2007-08 from 4.1 lakh kg per day in 2005-06.  Using IDIS information of milk procurement and membership and their trends of neighbouring unions of Andhra Pradesh and Odisha, the union prepared a plan for increasing milk collection from their milk shed areas.  While doing so, the Union used DCS wise average milk collection, identified the DCSs which had reported fall in milk collection, prepared strategies for increased collection unit wise and supervisor wise and shared with Route Supervisors with a time bound target to improve milk collection. 
The focused supervision yielded results in 2008-09. The upward trend in milk collection continued unabated. The Union now collects about 6 lakh Kg per day with an incremental volume of about 11% per annum. This was achieved through a strategy to reach out to uncovered areas in the milk shed and at the same time increasing the intensity of milk collection from the existing collection areas.   In all such strategic decisions IDIS data was extensively used to generate lead which was translated down to grass route level for improved milk collection. This achievement prompted the Union to expand its milk processing capacity from 3 LLPD to 5 LLPD.
Outlook
Considering the importance of taking informed policy decisions, many unions use this system. It is further envisaged that with the improvement in data accuracy, timely reporting and active participation of unions, dairies, cattle feed plants and federations, the utility of the system will be enhanced greatly benefitting all the stakeholders.